Tecan's main business activities are the design and development of innovative instruments, instrument components and modules, software, reagents and consumables for research, diagnostics and medical use and the execution of global sales and service activities. For instruments, components and sub-modules, the largest source of revenue contribution, focus is on the final assembly, testing and packaging. These activities have a relatively low environmental impact as they are not energy intensive, do not generate a large amount of waste and do not require significant water use – most of Tecan's water consumption is in the bathrooms and canteens. Nevertheless, Tecan aims to minimize any negative environmental impacts of its business activities and implement opportunities to have a positive environmental impact. In 2020, Tecan completed a product carbon footprint of our flagship Fluent™ automation workstation and has since then annually offset the emissions generated by production and shipping of the various models of the Fluent™ to create a certified climate neutral product. In 2021, the product carbon footprint of the Spark family of detection products was completed, with an annual offset of production and shipping emissions carried out since January 2022. The projects supporting this offsetting are independently verified gold standard projects described in more detail . Tecan's Männedorf headquarters location has been certified carbon neutral annually since 2020, running on 100% renewable energy and generating renewable electricity via rooftop solar panels. Renewable energy use at Tecan is increasing worldwide, and solar panels are also in place at production facilities in Austria, and in Morgan Hill, California, where they meet approximately one-third of that location's electricity needs. In 2021, Climate Impact and Circular Economy were identified as sustainability focus areas for Tecan.
Tecan has reported environmental impact data in its Annual Report since 2007, and via CDP reporting since 2011, recognizing the importance of transparency. In 2019, Tecan set an ambition to reduce greenhouse gas emissions by one-third, by 2022. This goal has been reached, with a reduction of 47% achieved (see table).
As the reports of the International Panel on Climate Change make clear, rapid decarbonization is needed to keep global temperature raises below 1.5°C above pre-industrial levels. To demonstrate that Tecan takes seriously the responsibility we all have in this regard, in early 2022 Tecan signed the commitment to the Science Based Targets initiative. In 2022 the company's first total global footprint calculation was completed. Learnings from this extensive process were applied to the calculation of the 2022 total global footprint earlier this year. As is typical for manufacturing companies, the biggest sources of Tecan's greenhouse gas emissions are indirect sources, scope 3 in the Greenhouse Gas protocol, in particular 3(1) Purchased Goods and Services, and 3(11) Use of Sold Products. Tecan has identified emissions reductions initiatives and sent the following target to be validated by the SBTi:
Net zero: Tecan commits to reach net-zero greenhouse gas emissions across the value chain (scopes 1, 2 and 3) by 2050 from a 2022 base year.
Scope 1+2: Tecan commits to reduce absolute scope 1 and 2 GHG emissions 42% by 2030 from a 2022 base year. In addition, Tecan aims to source 100% renewable electricity by 2025.
Scope 3: Tecan also commits to reduce absolute scope 3 GHG emissions 42% by 2030 from a 2022 base year.
Tecan's greenhouse gas emissions are tracked and reported to the Management Board during each quarterly strategic review. In 2023 emissions reduction initiatives will be integrated into operational reviews at least twice a year, with a focus particularly on reduction in emissions in Tecan's supply chain. Tecan's deployment of the supplier assessment platform EcoVadis supports this effort. In 2022, Tecan participated in knowledge-sharing sessions with customers and peers, including giving feedback on sustainable design guidelines, and learning how companies incorporate emissions reduction advice into their product offerings. Such engagement supports Tecan's own greenhouse gas emissions reduction ambitions, as when customers and suppliers work to reduce their emissions this has a positive impact on Tecan's own efforts. In 2022, Tecan also investigated opportunities to reduce emissions through increased refurbishment offerings, and increased local production. The outcome of these efforts will be reported as part of Tecan's overall emissions reduction progress.
Eco-design provides Tecan with further opportunities to reduce its environmental impact. Tecan's Fluent™ Automation Workstation incorporates a number of eco-design features, including stand-by mode, which saves power when the system is not in use but allows it to be activated immediately, and "Zero-G", which reduces power to the motors when the system is on pause or within a run whenever an arm is not in use. The Fluent™ is an unusually quiet workstation, reflecting its efficient design: the field-orientated control protocol increases the efficiency of the motors by up to 80%. Waste segregation features allow for the separation and so optimal disposal of contaminated waste (plates and tips) versus clean waste (tip wafers and boxes), and efficient fixed tip washing protocols help to minimize the use of disposable tips. The Fluent™ is also a carbon neutral product, as described above.
Considering energy efficiency, materials, waste and the opportunity to have a positive environmental impact is part of Tecan's structured research and development process, with a dedicated section of Tecan's "milestones" R&D review process focused on alignment with Tecan's sustainability strategy. In 2022 Tecan's sustainability program was presented at an R&D Townhall meeting, giving colleagues the opportunity to ask questions and hear from Tecan's Chief Technology Officer and Head of R&D how important it is to continue to look for eco-design opportunities, ensuring Tecan's products are future-fit.
Tecan's headquarters and site management
Tecan's Männedorf headquarters was an early example of a "green building", built with environmental impact in mind. It has a "living roof" which naturally reduces building energy consumption, as well as rooftop solar panels that generate around 10% of the building's electricity needs. LED lighting and automatic sunshades also reduce energy usage, and low-flow water systems ensure efficient water use. Charging stations powered by renewable energy are available free of charge for employees who have electric vehicles, and a subsidy for employees who commute using public transit also reduces overall environmental impact. For employees who need to travel between Tecan buildings or otherwise locally from Tecan's headquarters, hybrid vehicles are available. Impact is also managed at the employee canteen, which serves meals made from seasonal, local ingredients, always with a vegetarian option, and consciously avoids generating food waste. In 2020, the carbon footprint of Tecan's headquarters was measured and offset through projects managed by Climate Partner, and this has been repeated annually since then.
Ensuring facilities management best practices are shared among Tecan sites around the world is a priority for the short and mid-term. Tecan's Environment, Health and Safety Office is reviewing the related site-specific management systems already in place, and will implement a global EHS Management System in all Tecan entities by 2023. This will be certified to ISO 14001 and ISO 45001 standards. The current systems have enabled Tecan to uphold its strict Product Environmental Compliance policy, and are also reflected in Tecan's Code of Conduct, both of which mandate that environmental legislative requirements are met and that employees work to minimize Tecan's environmental impact, and both of which are . The Product Environmental Compliance policy and facilities management systems and ambitions reflect Tecan's support of UN SDG 12.4, to "achieve the environmentally sound management of chemicals and all wastes throughout their life cycle…" and UN SDG 12.5, to "substantially reduce waste generation through prevention, reduction, recycling and reuse."
The Factory in the Forest
The acquisition of Paramit Corporation and its affiliates in August 2021 brought an exceptionally green building into Tecan's portfolio, the award-winning "Factory in the Forest." Consciously designed to connect the building's occupants to nature, the factory optimizes use of indigenous plant life to create a unique workplace that also maximizes energy efficiency, water efficiency and use of natural light. With trees surrounding and even inside the building, the greenery provides protection from the sun, and roof gardens as well as a courtyard linking the office and production areas enable employees to directly access this environment. As the building's architects have noted, "Forests, critical for both macro and micro-climates, are also vital for our psychological well-being", a concept further explored in a book about the building. Building technology includes an innovative chilled-water radiant floor cooling system that is twice as energy efficient as conventional air conditioning, and dimmable daylight-responsive LED lighting as well as individual task lighting, which complement the diffused natural light to ensure an evenly lit work environment. A louver canopy provides shade and reduces energy consumption, and rainwater is collected and used for landscape irrigation. The "Factory in the Forest" is certified to the ISO 14001 standard.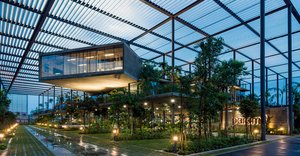 2022

2021

(limited
footprint)

2020
(limited
footprint)

Consumption

(tCO2e)

(tCO2e)

(tCO2e)

Scope 1: Direct energy use per primary source

1,729.78
613.69
456.70

Stationary combustion

952.6
383.28

311.70

Diesel (liters)

350

0.89

Natural gas (KWh)

4,510,766.35

823.48
383.28

311.70

Propane (liters)

507,280.00

128.23

Mobile combustion

671.30

154.91

104.80

Diesel

116,720.00

300.35

77.37

Hybrid

Petrol

171,577.60

370.95

77.54

Refrigerants (Kg)

105.88

75.50

40.20

Scope 2: Indirect energy use per primary source

6,574.92

696.46

1,418.70

Electricity (KWh)

6,481.52

527.26

1,267.90

Grid

11,985,126.18

6,481.52

527.26

Renewable

6,300,240.50

0.00

Electric vehicles

0

0

Heating (KWh)

93.40

169.20

150.80

District heating

750,488.35

93.40

169.20

Emission intensity
(scope 1 + 2 emissions in tCO2e/turnover in CHF millions)

7.26

1.38

2.57

Total Scope 1+2 (tCO2e)

8,304.7
1,310.15

1,875.40

Scope 3: Other indirect emissions

497,388.41

2,770.13

2,157.50

Business travel (all sites)

5,868.93
1,882.17

342.6

Accommodation (nights)

561,780.26

833.19

Air travel (pkm)

15,860,661.78
3,573.53
1,882.17

Ground travel (km)

597,343.30
1,306.03

Purchased goods and services

227,521.00
18.15

27.3

Employee commuting and teleworking

2,050.72

393.05

1,399.40

Waste generated in operations (tons)

702.10
239.37

78.28

63.5

Fuel and energy related activities

1,920.82

398.48

305.50

TOTAL Scope 1+2+3 (tCO2e)

505,693.10

4,080.29

4,032.70
This table above shows Tecan's carbon emissions in a format consistent with that used in previous Sustainability Reports. Tecan has now calculated its total global carbon footprint, shown in the chart on the next page. In addition, Tecan reports for calendar year 2022 the following location based emissions: 7178.11 tCO2e scope 2, and 5148.73 tCO2e scope 3(3).
The table below shows Tecan's progress towards the first emissions reduction target, set in 2019. This target has been achieved and Tecan now pursues the science-based target set out in the previous pages.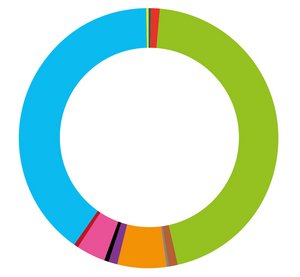 A circular economic model is one in which the creation of waste is avoided, in contrast to the linear "take-make-dispose" pattern of resource use seen more often today. Circular economy principles can be built into the design of products, as well as considered in their materials. The transition to renewable energy and materials underpins the approach. The need to transition to a circular economy is clear: every year, humanity uses more resources than the planet can regenerate, threatening the very ecosystems that enable life to flourish.
Tecan's main business activities are the design and development of innovative instruments, instrument components and modules, software, reagents and consumables for research, diagnostics and medical use and the execution of global sales and service activities. For instruments and components, focus is on final assembly, testing and packaging. The materials sourced for this are a large contributor to Tecan's scope 3 emissions; typical materials include steel, aluminum, plastic, small amounts of tin, and forestry products for packaging. Many of Tecan's products are long-lasting, designed to be used for many years and this long product lifespan is supported by Tecan's service offerings. Nonetheless, there are opportunities to reduce Tecan's use of resources, for example by including a higher percentage of recycled content in the housing of some products, and in packaging. Currently it is assumed that the percentage of renewable materials used to produce Tecan's products and packaging is 0%. Within Tecan, work is underway to identify product and process changes that can be made that would have a beneficial environmental impact, with the goal of setting a measurable target in this regard. These efforts support UN SDG 12.2, to "move towards a circular business model."
Tecan's products are highly regulated, which restricts what changes can be made to the content of products and can also restrict how these changes are made. These restrictions often apply also to the packaging that touches the product. There are also restrictions regarding product disposal, for example, plastics that have come into contact with certain medical samples are incinerated rather than recycled. Tecan's "consumables" products, many of which come into contact with samples and by regulation cannot be reused and might even need to be treated as hazardous waste, are estimated to be Tecan's biggest source of plastic waste and in 2022 a team dedicated to these products was formed, taking on the task of reducing the environment impact of this line of products. Tecan offers a broad portfolio of products including disposable pipette tips. However, Tecan is one of the few suppliers to leave it up to the customer, depending on the application, to decide whether steel needles are used for pipette steps. To do so, Tecan has two completely different technologies for liquid transfers. For applications where the risk of cross-contamination is only very minimal or even non-existent, it can make sense to use steel needles for reasons of sustainability, and some major customers choose to do this. In 2022, Tecan designed a "voice of customer" survey to explore additional options for reducing the environmental impact of consumables, and in 2023 the results will be analyzed, and changes implemented based on the feedback gathered.
Carbon Offsetting Projects
Tecan's Climate Impact focus is on reducing carbon emissions throughout the value chain, as described in this report. In addition, Tecan supports a number of high-quality carbon offsetting setting projects, which empower others to reduce emissions and have a beneficial social impact.
Tecan's Männedorf headquarters and manufacturing site have been certified climate neutral since 2020, along with Tecan's flagship Fluent® workstation. Since 2021, Tecan's Spark® family of products has also been certified climate neutral. Before offsetting the related greenhouse gas emissions, steps were taken to reduce emissions, for example by increasing use of renewable energy, and incorporating ecodesign features into our products.
The offsetting projects that are supported by Tecan are provided by ClimatePartner, a leading provider offering companies climate action solutions.
TECAN HEADQUARTERS CERTIFIED AS CLIMATE NEUTRAL
Tecan has calculated the Corporate Carbon Footprint
(CCF) for its headquarters and largest development and manufacturing site in Männedorf, Switzerland. It was calculated based on the standards defined in the Greenhouse Gas Protocol Corporate Accounting and Reporting Stand-
ard (GHG Protocol). The Corporate Carbon Footprint is an important compo-
nent for the development of a climate protection strategy. By analyzing the carbon footprint, it is possible to identify reduction potentials, develop appropriate measures and define climate protection goals.
Offset Project 2022: Cookstoves for healthy people and forests in Rwanda
Nyungwe Forest National Park in the southwestern corner of Rwanda is the biggest mountain rain forest on this side of the African continent and the country's most important site for biodiversity. However, the growing population in areas around the park and their increasing use of firewood for cooking is putting more and more pressure on the unique rainforest ecosystem.
This project enables households to reduce their wood con- sumption. Traditionally, families here cook over an open three-stone fire. This is inefficient and also a serious threat to health due to the heavy smoke pollution. The project will introduce efficient cooking stoves made of local clay and sand. The so-called Canarumwe model is produced by a local cooperative and consumes two thirds less fuel than the three-stone fire. The stoves are offered at a subsidized price so that low-income households can afford them. Since women are usually responsible for the fire, they and their children benefit particularly from the project.
How do cookstoves help fight global warming?
In many of the world's poorer regions, families cook their meals over an open fire, often in enclosed spaces. This meth- od of cooking is however not energy efficient, as large amounts of heat go to waste. Clean cooking stoves are often simple devices made from metal or clay that use energy more efficiently. Families can thus save fuel and cut down on carbon emissions. Sometimes the stoves are even used in small businesses.
How health and climate benefit from microcredits
Offset Project 2022: Social Impact, Nationwide, India
Over 700 million people in India cook over open fire. However, the smoke produced by this method of cooking has serious health implications. Our carbon offset project aims to counteract this problem: By granting microcredits, consumers are enabled to purchase efficient cookstoves and solar lights.
Families buy the products locally at market price – a best practice from the microfinance sector, as giving products away for free would hit the local economy and lower the value of the products. Buying the products locally strengthens small businesses, with the project additionally supporting suppliers with training and start-up capital. And the climate benefits: Using the efficient products saves an average of 100,000 tonnes of CO2 per year.
How does climate action with social impact projects work?
Social Impact projects include one or more technologies that create direct social added value in addition to climate action. Such projects involve the distribution of efficient cooking stoves, solar-powered light sources or drinking water purification.
Efficient cooking stoves make better use of the energy supplied and reduce the smoke produced when cooking over an open fire. A similar problem exists when households do not have access to clean drinking water, as the water must be boiled over an open fire first before it can be used without hesitation. Remedies include the provision of drinking water treatment aids, such as filters, or access to groundwater from wells. In addition, solar lights help to illuminate the rooms and replace expensive paraffin lamps, which are a frequent cause of fire accidents.
Fossil-fuel phase-out in a coal paradise
Offset Project 2022: Biomass, Soacha, Colombia
Soacha is a fast-growing suburb in the metropolitan area of Bogotá. Young people from rural areas try their luck there; others had to leave their villages during the civil war. Countless simple mudbrick houses are being built, and brick kilns make a good living. Since coal is cheaply available in Colombia, nearly all of the region's 40 brickworks use it to fire their kilns.
Except for the Santander brickyard, that is. Its owner, Miguel Diaz, has converted his business so that it operates modern, energy-efficient kilns – and he also runs them with up to 80 percent renewable biomass. This way, the brickyard saves 18,000 tons of carbon emissions each year.
This exclusive ClimatePartner carbon offset project was the first project in Colombia to receive Gold Standard certification.
How do biomass projects help fight global warming?
Biomass projects involve energy being created from renewable biomass, which could be coconut shells, sawdust, wood chips, the residue of sugar cane processing, bamboo or wood from sustainable sources. No trees are felled, or fossil fuels burned, so no CO2 is emitted. As an additional greenhouse gas reduction measure, such projects mostly involve preventing biomass from rotting in the open air, so that no methane (CH4) is released.
Offset Project 2023: Wind energy, Bhatel, India Promoting India's sustainable development through wind power
The climate project in Bhatel in the Indian state of Gujarat supplies electricity from renewable sources with the help of wind power. Here, 23 wind turbines with a total capacity of 50.6 MW supply the regional power grid with an average of 177,302 MWh per year. India's power grid is still heavily dominated by fossil and thermal power generation, so the project makes a valuable contribution to climate action -- around 167,000 tonnes of CO2 are saved each year through this emission-low power generation.
At the same time, it promotes sustainable development in India: the local population benefits from a more stable power grid and long-term employment contracts in a region where most jobs are temporary jobs in agriculture. Paying above the regional minimum wage also improves employees' living standards.
How wind energy contributes to climate action
As the name suggests, wind turbines use the power of the wind to generate energy. During this process, a generator located inside the wind turbine converts kinetic energy into electrical energy. As energy is still mainly generated from fossil fuels in many areas around the world, clean wind energy can replace some of this fossil, high-emission energy and verifiably save CO2 emissions.
In most cases, the sustainably generated electricity from the wind power projects is fed into a regional power grid, which diversifies the power supply and improves energy security in regions that are frequently affected by power shortages and outages. A project often creates increased job opportunities for the local population and the area can be used for additional activities, such as agriculture. Wind power projects make an important contribution to a clean energy supply worldwide and contribute to sustainable development with respect to the UN Sustainable Development Goals (SDGs).